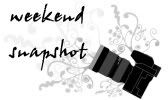 This photos was taken last 2 weekends ago,we're going to Silang Cavite to visit a friend. Along the hiway we passed by with the gardens and next to it is array of clay pot. I was attracted by the pumpkin style so I took some shots and here's the clearer one from various blurred attempts because of the speed of the bus. Happy Halloween! :)
When on our way back home it's getting dark already and here's what I've got, beautiful lanterns in preparation for the Christmas season.
Click photos for a larger view.
For more entries pls click here,
WeekEnd SnapShot